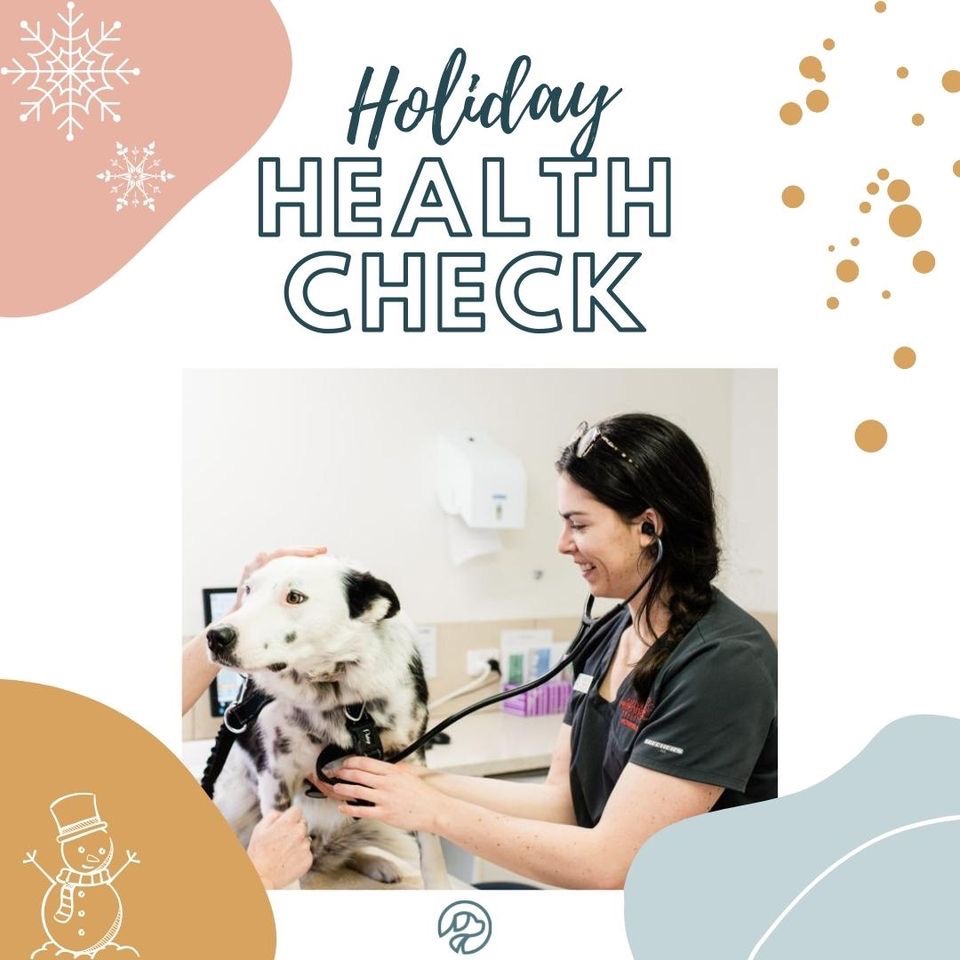 The holiday period is a busy time of year, and sometimes stressful! Luckily, we've got your pet covered with our HOLIDAY HEALTH CHECKS! These checks are designed for you to take the guess work out of your pet's holiday checklist.
They are $49 consultations* and examinations with the veterinarian, where you can discuss how to create and manage a stress-free environment over the holidays, how to prepare your pet for travel and boarding, ensure they are up-to-date with all their preventatives, and more!
Get your free HOLIDAY HEALTH GUIDE e-book with every appointment! We will email it to you after your booking is made.
Mental Health Care 
A large proportion of Australia's pets suffer from a mental health disorder. A recent global study discovered that an alarming 72.5% of dogs alone exhibited anxiety-like behaviours, and these traits only get exacerbated at times of stress and change, such as the holiday season.
Stress and anxiety may be shown in the form of:
Excessive panting
Inappetence
Hiding or clinginess
Shaking
Aggression
Destruction of objects or self
Excessive vocalisation
Inappropriate urination and/or defecation
Excess salivation
Extreme jumping or vocalisation on owner return. 
The triggers to create these stress behaviours differ for each pet. Many suffer from separation anxiety, others could be noise sensitive in crowds or fireworks, and some pets cannot relax with strangers in their house. To diagnose a mental health disorder, our vets find video analysis of their behaviour at home to be a very useful tool. 
 After a health examination and reviewing any behaviour videos, our vets will discuss treatment. The goal of treatment is to teach your pet how to be calm and relaxed during these stressful events, or during absence. It involves changes in environment and management, and sometimes the use of medication.
Use the checklist in the HOLIDAY HEALTH GUIDE to review your pet's mental health, and to help prepare a stress-free environment at home for the holidays.

Physical Health Care
We recommend yearly checks for pets along with their annual vaccinations against contagious and life-threatening illnesses. If this visit coincides with the holiday time and you find that you often forget to come in, consider bringing the visit forward to reduce the stress around December. 
This is also a great time to ensure your pet's microchip details are up to date, especially if you are going away. Pets can often become stressed around the holidays, and escaping the home is all too common.
This time of year also brings with it tick, flea and snake dangers, so use the checklist in the guide to check your pet is covered against everything they ought to be. Our vets will also examine your pet's body condition and oral health, to see if they are able to sneak a holiday treat or two. 
Decorations and Food Safety
As well as your pet's physical and mental state, there are many red flags around the house to take into account. These are all detailed in our health guide, as well as a handy human-pet calorie-converter!
Book your Holiday Health Check today by clicking below or calling on 49556670 to talk to our nurses. 
*These checks are $49 for the  examination detailed in the Holiday Health Guide. Any additional testing, vaccinations or medications are an additional cost. Special is only available through December.